The best built hot tubs
Clearwater Spas
Myrtle Beach
66-jet, 6 person hot tub with multi-colored LED mood lighting, lighted cascading waterfalls and a beautiful water fan feature
84″ x 84″ x 34″
This is a smaller version of our popular Tradition spa with a smaller 7′ overall footprint to fit into medium sized spaces.
Enjoy the same beautifully designed seating layout to fit a large family or group of friends. Order yours with an optional
portable bistro table that inserts into the custom made floor fitting for the ultimate in entertaining!
2014 Models come with new digital key pad that allow you to operate your hot tub from an app on your phone.
Set your temperature, filter cycles, control your pumps, lights and all features of your hot tub from anywhere in
the world. With 4 saveable settings. with the touch of a button you can arrive home to the perfect spa settings of your
desire.This model comes included with upgraded stereo and sub. Lighted pop up speakers, iPod dock or blue tooth


Feature
Description
Seats:
6 People
Dimensions:
84" x 84" x 34" (213 x 213 x 86 cm)
Hydrotherapy Jets:
62 hydrotherapy massage jets 4 zone air controls
Pumps:
2 – 5.0 hp / 1 – circ. (U.S./Canada)
3 – 3.0 hp / 1 – circ. (Europe)
Water Capacity:
340 gallons (1287 liters)
Weight:
Empty: 600 lbs. (272 kilograms)
Full: 3436 lbs. (1559 kilograms)
Filtering Area:
150/sf
Electrical Requirements:
240 volt (U.S./Canada)
220 volt (Europe)
Electrical Amp./Breaker:
60 amp GFCI (U.S./Canada) 2 x 32 amps (Europe)
Energy Efficiency:
CEC Certified / E-Smart™
Flooring System:
Weather-resistant, fully insulated Durafloor™ is made from 100% recycled ABS. PVC pillar support system are rot, rust and mold-free.
Cabinetry:
RIM System or Cedar
Standard Features:
Stainless jets (adjustable), deluxe multi-colored LED mood lighting, 12 multi-colored cabinet lighting sconces, 2 headrests
Water Treatment:
CD ozone purification system
Adjustable Water Feature:
Waterfalls, water fountain arches & pop-up water fan
Standard Accessories:
5" tapered insulated cover
Options/Accessories:
Salt sanitation system, Clean Light UV-C purification, ClearStream™ Bluetooth audio system / media player housing / 2 speakers / 1 subwoofer, Power-In-Motion (PIM) pump package with variable speed massage effect, removable bistro table, Microsilk skin moisturize and cleansing system for youthful looking skin, color matching steps, cover lift, gazebo
Standard Warranty:
20 Structural Warranty (shell, pillar supports, durafloor system, RIM Cabinetry)
5 Year Equipment Warranty (plumbing, operating equipment)
NOTE: All weights and volumes are approximate. Specifications, features, options and accessories are subject to change without notice. Selections may vary by dealer and inventory supplies.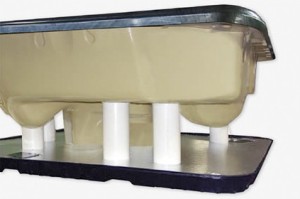 Pillar Supports
PVC pillar supports won't rot or let you down. Clearwater Spas uses a PVC pillar support system which cannot rot, mold or otherwise breakdown like others that use wooden supports. Many other manufacturers fill the entire skirt interior with low density foam which can deteriorate and attract unwanted rodents to its warm and moist environment. Clearwater Spas PVC pillar support system combined with the RTB insulation and Dura Floor will give you a lifetime of structural support unmatched by any other.
Providing a Greener Spa and Environment
Clearwater Spas in committed to protecting the health of our environment and manufacturing energy efficient hot tubs that help conserve our natural resources. We are continually striving to improve our products and how they are made to reduce the environmental impact of our product.
Energy Savings
Our spas are among the most energy efficient in the world, using as little as 138 kWh per month or costing as low as $19.00 per month to operate.
E-Smart Technology
The 'e' in our E-Smart Technology symbol stands for efficiency, economic value, engineering, environment and efficient recycling. These areas are where we pay special attention and focus our manufacturing mission on being responsible as a global citizen to our environment. From the initial engineering design stage through our manufacturing, recycling and product usage, we have set a high standard to keep our hot tubs environmentally sound.
Product Engineering and Responsible Manufacturing
Our engineering and design teams begin all new spa development with a focus on energy efficiencies, ergonomic comfort, therapeutic value - using environmentally friendly products and providing a safe working environment for our employees. Clearwater Spas prides itself in producing no VOCs which do pollute the atmosphere.
Energy Efficiencies
Energy efficiency has never been so important, and that's why every component is designed and engineered to come together to create the most energy efficient spa system. Clearwater Spas is among the few manufacturers to comply with the California Energy Commission's stringent Title 20/Section 1606 energy standards for portable spas.
Reflective Thermal Barrier (RTB) Insulation
Providing an R-20 value, our Weather Pro RTB Insulation harnesses all thermal gain from the pumps and heater inside the spa cabinet, while reflecting the colder outside air away from the spa cabinet - thus heating the spa shell and water. Tests have shown Clearwater Spas RTB Insulation to be 12% more energy efficient than foam filled spas.
Insulated Dura Floor
Our weather-resistant, full-insulated Dura Floor provides the foundation to lift the spa off the cold ground to further insulate and protect the spa from moisture, bugs and other negative influences.
Insulated Hard Cover
Engineered tapered covers provide an R-18 value of insulation to trap heat within our spas and help save energy costs.
LIMITED WARRANTY
Every Clearwater Spa is manufactured to our exacting standards and requirements, and your long-term enjoyment of your spa is our ultimate goal. Therefore, we are proud to provide these comprehensive warranties with our products.
20 YEAR SPA STRUCTURAL WARRANTY
Includes: Shell | Pillar Supports | Floor System | RIM Cabinetry
Clearwater Spa structures are warranted against water loss occurring from defects in material or workmanship for 20 years (Signature Package)from the original purchase date. Clearwater Spas warrants their spa shell interior surface against blistering, cracking and delamination for 20 years (Signature Package)from the original purchase date
5 YEAR EQUIPMENT WARRANTY
Includes: Plumbing | Operating Equipment
Clearwater Spas warrants the operating equipment and plumbing against defects in workmanship for five years (Signature Package)from the original purchase date.
HOW THE WARRANTY WORKS
In the event of a covered defect under this Limited Warranty, Clearwater Spas or its agent will make repair in accordance with conditions contained in this Limited Warranty. The homeowner is required to provide full access to the cabinet's entire service side panels, without any obstructions, to service all internal components. There will be no charge for parts or labor to repair the spa. There may be repair person travel costs if the spa is located outside the normal service area. If the covered defect cannot be repaired, as determined by Clearwater Spas, we reserve the right to provide a replacement exchange spa of equal value. In such an event, the spa owner will be responsible for the cost associated with the removal of the defective spa and the installation of the replacement spa. The liability of Clearwater Spas under this Limited Warranty, if any, shall not exceed the original amount paid for the defective product. It is the responsibility of the spa owner to notify the factory in writing immediately upon discovery of a warranty claim. Neglecting this notification may void your claim.
LIABILITY LIMITATIONS
This warranty does not cover any defects, malfunctions or damages that result from improper installation, commercial use or improper maintenance. The spa shell is made of high quality impact resistant thermoplastic. The spa surface cannot be subjected to periods of direct sunlight without being filled with water. Exposure to direct sun can cause deformation of the spa surface. Such exposure will void the warranty. This Limited War - ranty is limited to the original owner, installed at the original site. Any requests for change of site location must first be approved in writing by Clearwater Spas. This Limited Warranty is void if the spa has been altered, neglected, abused or misused or if any repairs have been made by an unauthorized agent. Misuse and abuse include any installation, maintenance or operation not in accordance with the owner's operations manual. Clearwater Spas is not responsible for incidental or consequential damages of any nature, acts of God or other causes beyond the control of Clear - water Spas. All warranties, implied or otherwise, including implied warranties for merchantability and fitness for a particular purpose, are limited to the terms set forth in this warranty. Exterior structural integrity of the cabinet is warranted to be free of defects at time of delivery and for 20 years for Signature Package / 10 years Gold Package for RIM Cabinets and for one year on Cedar Cabinets thereafter, but does not include the cabinet surface color finish fading (stain or paint). No representative of Clearwater Spas, not its agents, distributors or dealers, has any authority to alter in any manner the terms of this Limited Warranty and Clearwater Spas is not responsible for any undertaking, representation of warranty made by any other person beyond those expressly set forth in this warranty. This Limited Warranty only covers those items manufactured by Clearwater Spas. Exclusions: any options added that are not standard features, fuses, light bulbs, LED lighting, spa pillows, filter cartridges, ozonators, UV or salt system, any music systems such as iPod/MP3/FM docking stations, ClearStream Bluetooth, ClearSound Stereo System, Media System, speak - ers, subwoofer – which are covered under their separate manufacturer's warranty.